The new year brings new resolutions. Mine was starting to write again. I realized my dream at the beginning of the year and my 17th book was printed by Astana Publications in February.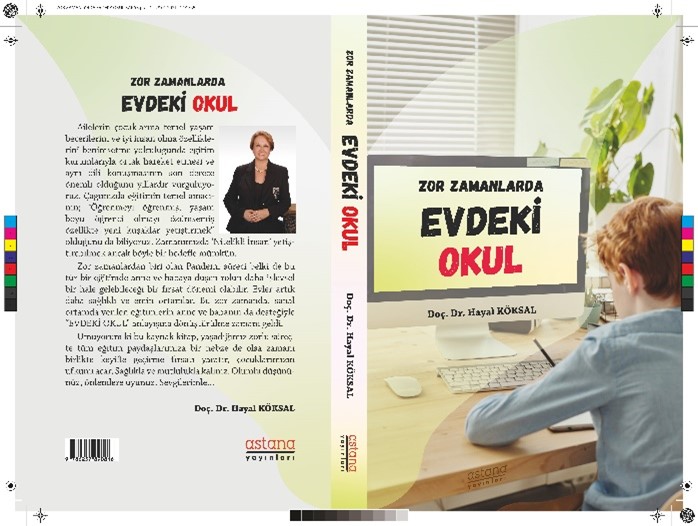 "HOME SCHOOLING @ DIFFICULT TIMES" (TURKISH=ZOR ZAMANLARDA EVDEKİ OKUL)
Pandemic is one of the most important difficult times within the history of humankind. We have been living with all the serious health and social problems of the Covid-19 virus since the beginning of the year 2020. The past year has been a great learning opportunity for everyone. Once again, we have realized that education is very important for our children, especially face-to-face education. The significance and indispensability of technology have become more revealed, but another fact that emerged was that the great gap between private-public school differences has grown even more in recent years. It is clear that the Ministry of National Education should give more support to teachers and students in public schools, be more planned and address the concept of equality in education more seriously, and focus more on the lives of multi-brother, less-resourced students living in villages and hamlets. It has also been clearly understood that teachers should have digital skills in order to carry out an effective 'distance education' process at all levels from primary school to university.
We have been stressing for years that it is extremely important for families to act in common with educational institutions and speak the same language in their journey to their children to accept basic life skills and the characteristics of being good people. The main purpose of education in our age is to raise new generations that have learned to learn and have absorbed being a lifelong student." It is only possible to raise 'Quality People' in our time with such a goal. The pandemic process may be a period of opportunity during which the role of mother and father in this type of education can become more functional. Homes are now healthier and more confident environments. At this difficult time, it is time to transform the trainings provided in the virtual environment into the concept of "SCHOOL AT HOME" with the support of parents.
As an educational scientist mother and grandmother who has dedicated years to education, I believe it is a huge mistake to confront and destroy children with the virus if health conditions cannot be achieved in the school environment. I always would rather have kids supported at home for several semesters but maintained health, rather than schoolchildren who have been directed to attend schools that have not been provided in accordance with health conditions and therefore have had their bodies, especially those with lungs damaged by the virus. That is what my logic and my heart tell me. If it comes to mothers and fathers who have to work; Shift style and/or reliable neighbour, family, relative collaboration is the right solution to these difficult days, I think. I condemn the parents who are tired of the child's mischief and see the school as a nursing home and the teacher as a caregiver. I have nothing to say to them but to ask them not to lose children.
My goal in writing "School at Home in Difficult Times" is to remind both the majors and minors of the understanding that learning can be possible with other activities and games, as well as the seriousness of the course being processed at the beginning of the screen. In addition, to be able to tell our children how the 'Individual Quality' journey is a pleasant and useful adventure. The book consists of two separate chapters. The first part is for the parents, and the second part is for the students. However, both parts are of close interest to educators. The book has three main purposes:
* Part 1 includes a hundred examples of activities for mothers and fathers to make learning at home fun and efficient. These events need to be held with the children.
* Part 2 is for our children who have to stay at home in these difficult times, who have to watch the lessons from afar and get bored. He tells them about his journey to becoming a qualified person and leads the way with a number of clues. Then there is the Diary sample on the back of the book. For everyone, especially the students.
* The two parts also aim to support educators. Our valued teachers can use both the activities in the first part and the 'Personal Development and Quality' leadership in the second part not only with their students in the virtual environment, but also in face-to-face training in their classrooms after these difficult times.
I hope that this sourcebook will create an opportunity for all our educational stakeholders to spend some time together and open the horizons of our children during the difficult period we live in. If you want to buy the book, please write to me or buy it from the web page of astanayayincilik or amazon.com.tr. Stay healthy and happy. Think positive, follow precautions. Love…
Assoc.Prof.Dr. Hayal KÖKSAL
Coordinator of SIG (Q-ELT, İNGED)
Founding president, Association for Innovative Collaboration (YİMEDER)
DG, World Council for Total Quality and Excellence in Education
AIESEC ISTANBUL, Higher Advisory Boar Member
[email protected] [email protected]
00 90 532 373 84 87