Dear All,
I am so sorry for neglecting my Blog after a long time.
I would like to start wishing a peaceful, healthy and happy New Year to all of the world citizens. Recent years have not presented happy  days to us. We witnessed many bombing and killing events not only in Turkey but in many countries. I sometimes think that modern times do not bring happiness to humanity. Even though technology and communication channels develop more, we forget to live in an harmonious way. Why? I can only wish and try to be peace-oriented in my personal and professional lives. Realization depends to all not to one. So coming together and finding better solutions must be the most important thing to be done, especially by the politicians.
Last year, I instructed my last term at Boğaziçi University where I was instructing since 1997. For twenty years, I trained hundreds of students, mostly teacher-trainees. It was a lovely place to work. Even though the last term was so hard for me due to the excessive amount of classroom populations and physical conditions, it was  lovely to meet some well-ornamented and nice personalities for the goodness of the future world. I met 220 teacher-trainees and tried to teach them "Classroom Management". Thanks God, I used a collaborative methodology named "İmece Circles/SQCs" to ease my job and to show my students how to manage crowded classrooms. Most of them looked satisfied.
Another important issue was printing my last book. With the  support of Avcılar Mayor, Dr. Handan Toprak Benli, my last book about Village Institutes was published in December, 2016. It has been sold through the web pages of D&R, İdefix and all other well-known Bookstores. It can also be bought from the Association of Innovative Collaboration (YİMEDER)(www.yimeder.org), or from the publisher, www.detayyayin.com.tr . The book start with five different articles about the graduates of  Village Institutes and also one of my ex-student. The second part of the book includes 30 projects conducted with my students at Boğaziçi and Yeditepe Universities in Istanbul. They used the İmece Circles methodology to solve the current educational problems in the light of Village Institution philosophy. Now, I am preparing a new edition of another book titled "Catch kind young". I believe it will be very informative for all kids in the world, as well. For, it will be two-sided; one side in Turkish and the other side in English. Wait for it. Our aim is to complete it at a cheap price and sell it at a cheap price, too.
14. International ICT Seagulls and 4. Leading Seagulls Projects have been waiting for the new registered teams. Now, I must  say Goodbye to all. I hope you follow me and get good news all the time. With peace and love.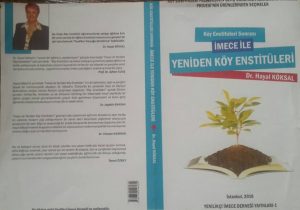 Değerli Dostlar,
Uzun zamandır ihmal ettiğim Bloğumu bundan sonra daha düzenli yazmaya çalışacağım.
Hepimiz için ve tüm Dünya vatandaşları için mutlu, sağlık ve huzur dolu bir Yeni Yıl dileyerek başlamak istiyorum. Geçtiğimiz yıl bizleri mutlu eden bir yıl olamadı ne yazık ki. Bombalamalar, katliamlar, cinayetler, tacizler ve şiddetle geçen bir yıldı. Sadece ülkemizde değil, küresel bir köye dönüşen dünyamızın her köşesinde benzer çatışmalar ve huzursuzluklar yaşandı. Bazen modernleşen ve gelişen dünyanın huzuru ve mutluluğu getirmediğini düşünüyorum. Teknoloji ve iletişimin gitgide gelişmesi insanların barışı daha çok kucaklaması ve uyum içinde yaşaması demek olamıyor ne yazık ki! Neden dersiniz? Birey olarak ben barış odaklı bir özel ve mesleki yaşamı diliyor ve deniyorum. Ancak barış dolu bir dünyanın gerçekleştirilmesi bireysel bazda kişilere değil toplumun tümüne bağlı. İşte tam da bu nedenle bir araya gelerek gerçek bir imeceyle sorunlara çözüm bulmak zorundayız. Özellikle politikacılara ve kanun yapıcılara düşen görev bu.
Geçtiğimiz yıl Boğaziçi Üniversitesinde son dönem dersimi verdim. 1997 yılından bu yana neredeyse tam yirmi yıl çalıştığım bu güzel üniversitenin Eğitim Fakültesinde yüzlerce, binlerce genç özellikle de öğretmen adayı yetiştirdim. Aşırı kalabalık ve bunun neticesi olan zorlayıcı fiziki koşullara karşın iki yüzün üstünde iyi donanımlı  ve  güzel adaylarla tanışmak mutluluk vericiydi. Şükürler olsun ki 2000li yılların başından beri kullanarak geliştirdiğim İmece Halkaları yöntemiyle öğrencilere kalabalık sınıfların nasıl yönetebileceğini gösterebildim. Çoğu yöntemden mutlu olmuşa benziyordu.
Geçen yılın önemli bir başka konusu da son kitabımın basılmasıydı. Haziranda tamamlanan kitabıma aylarca sponsor aradım. Sonunda Avcılar Belediye Başkanı sayın Dr. Handan Toprak Benli'nin desteğiyle Aralık ayında kitabım Detay Yayıncılık tarafından basılarak raflarda yerini almaya başladı. Kitap D&R, İdefix ve benzeri tanınmış kitap evlerinin web sitelerinden edinilebileceği gibi, Detay Yayıncılık ve Yenilikçi İmece Derneğimizden de alına bilinir (www.yimeder.org) (www.detayyayin.com.tr). Kitapta Köy Enstitüleri felsefesiyle aydınlanmış gençlerin mevcut eğitim sorunlarına çözüm bulma çabaları ve Köy Enstitülü büyüklerin yazıları var. Şu an Çekirdekten Yetiştirme kitabımın yeni baskısını hazırlamakla meşgulüm. Çağdaş ve yenilikçi çocuk yetiştirmek için hazırlanan kitap tüm dünya çocuklarına katkı sağlayacak çünkü kitabın bir yönü Türkçe, bir yönü İngilizce olacak. Amacım ucuza mal edip ucuza okurla buluşturabilmek. Bir önceki baskı www.dignitypress.org adresinden veya Amazondan alınabilir.
14. Uluslararası Bilişimci ve 4. Lider Martı Projeleri yeni kayıtları bekliyor. Sonsuz sevgilerimle daha kısa sürede buluşmak üzere diyorum. Sağlıkla ve barışla kalın.
Dr. Hayal KÖKSAL