Village Institutions were the schools of the Enlighthenment period of the Turkish Republic. It was a project of developing the Türkish villages_the educational, health, agricultural and socio-cultural systems of them_ after the war of Independence. During the reforms of Atatürk education had the most important priority order. He wanted to realize the improvement in urban areas. He dreamed, he dared and along with his Ministers of Education he guided to the foundation of a wonderful system: VILLAGE INSTITUTIONS (KÖY ENSTİTÜLERİ). They were founded on 17 April 1940 and unfortunately they could not last long. Due to some political, social, cultural and external reasons, the closing steps started in 1946 and closed in 1954. It is so sad because that system was recommended by UNESCO to all developing countries of the world and nearly 100 countries have been using that system adopting it to their cultural values. From India, to Mauritius, from Venezuela to Finland and Hungary the signs of those schools are traced but in Turkey…? Being aware of the significans of that system, I designed a project in 2005. I aimed at teaching the philosophy and the application of that system to the teacher trainees I instruct at the faculties of Education. I started at Boğaziçi University and then I used the same methodology at Yeditepe and Bahçeşehir Universities. I start each term showing videos, recommending books and inviting Village Institute graduates to my lessons and I create awareness among future teachers concerning that system whish was based upon learning/teaching by doing. I also use a problem-solving system caleld İmece Circles which was one of the cultural values of those schools in the past. Using that system, ı guided 80 different projects within 15 years at those universities. 30 of them took part in my last book titled;
"Rebirth of Village Institutions through İmece Circles".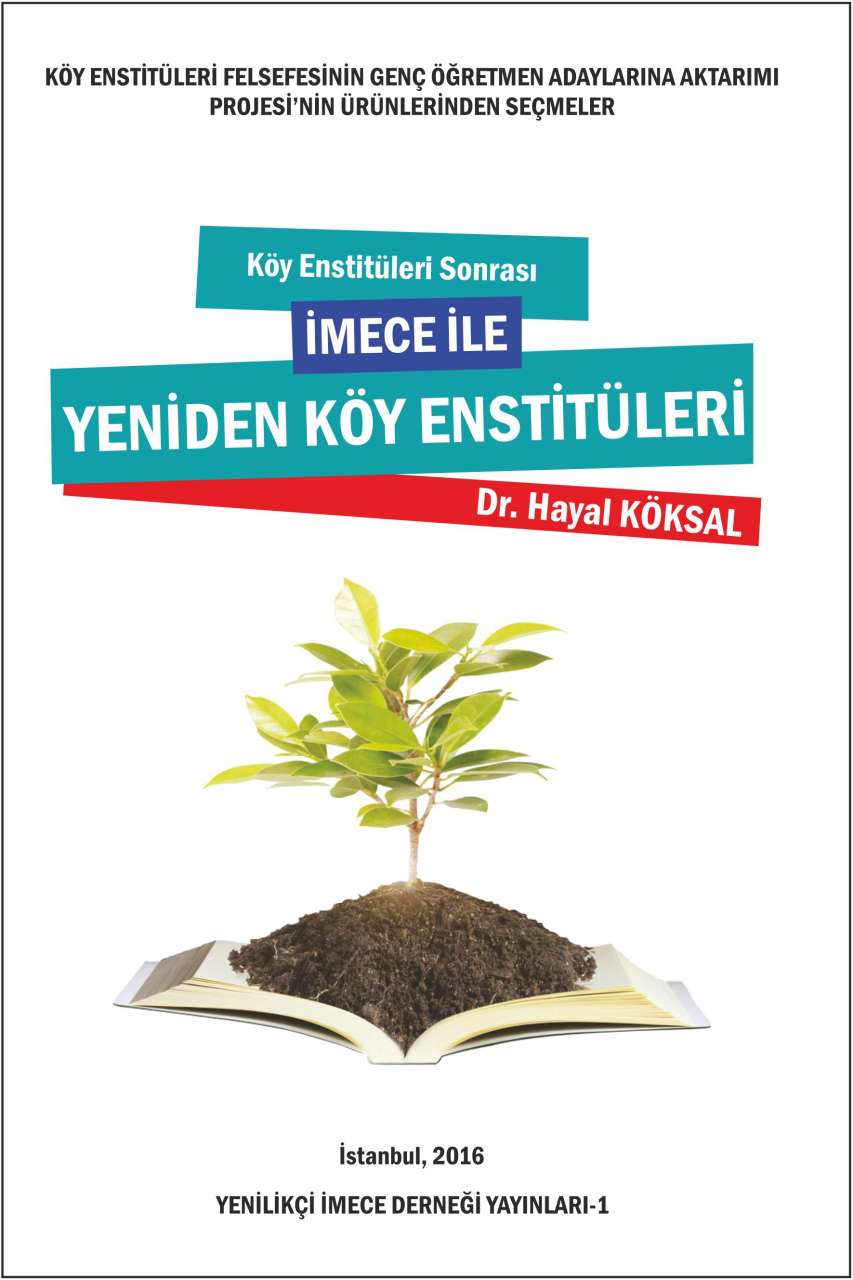 My students_teacher trainees have been very improssed by what they have learned. I will share some articles with you about those schools. They were presented by my students, colleagues during the Paper presentations of the 11. International Convention on Students' İmece Circles at Yeditepe University in 2008. I will share my paper in my next page.
I would like to send my love and respect to the founders of those schools of excellence_The great leader Mustafa Kemal Atatürk, the father of the system_İsmail Hakkı Tonguç and the Minister of Education in those days_Hasan Âli Yücel.

THE LIGHT OF IDEALISTIC VIEW of VILLAGE INSTITUTES and INNOVATIVE TEACHERS FOR BRIGHTER FUTURE
Nilufer Ozbey, TÜRKİYE
Abstract
The major purpose of this paper is to discuss the similarities between the goals of Village Institutes and Innovative Teachers' Program. By doing this, it is hoped that, the most suitable educational system of Turkey will be better understood, and to think about improving the quality of teachers and students, educational policy and practices.
It is realized that education is very important to change Turkish society. From this point of the view Village Institutes System was the best solution for reconstructing the new Turkish Republic. All students were hardworking, idealistic village pupils who want to be teachers for educating the new generations. It was a very functional educational view. The main goal which the teacher trainers had, to educate not only the pupils at school but also to educate the Turkish society, make their life situations easier and encourage them to find out the solutions by themselves. These teachers were very well prepared people because their goals were so high. Everything were taught to them; besides of compulsory courses as Math, Science, History, Language etc. they were also responsible to read all world classics and to play at least one musical instruments. Beside of these they were taking some practical courses like how to plant, to milk, to build a house, searching etc. They were educating as modern intellectual people who also able to manage traditional life style because they were grown up not only as a teacher who teaches at school but also a light of a village who able to help villagers on different areas.
For some reasons these schools were canceled but still these teachers, who graduated from the Village Institutes, are right role models for young idealist teachers. At that point today Innovative teachers are more or less follows most of the principals of Village Institutes. Why? Because they are also have the same enthusiasm about creating the better future. What should we do while to adapt and also updating this great Humanistic system which is established by Turkish people in Village Institute and successfully resulted?
* People who want to be teachers first should clearly understand that teaching is not a job.
It is a way of life. (Motivating young teachers in an idealistic way)
* The teachers should understand their own importance on the society and take the responsibility.
* Some lessons should be placed in Universities' curriculum of Teacher Training Department to give them the Idealism of Teaching, Principals of The Village Institutes, Life Quality.
* The teachers who graduated from The Village Institutes can be guest lecturers or advisors in Teacher Training Departments at universities. They may give some special seminars.
We all appreciate the Japanese system but there is no big secret about it. They just work hard and follow the trades but not forgetting the traditions and local solutions.
Educational system is an active area which always need updating but if we already managed to educate high qualified people with very limited possibilities by following the principals of the Village Institutes in the past why we are looking for some other solutions from the different countries.
If we want to have "PEACE at home, PEACE in the world" the goal of education should be to train the younger generations in line with the reforms and principles of Atatürk. Education is a starting point for all good things. We only need to believe ourselves and our work.
Nilüfer Ozbey is a teacher of English working at Beykoz, Istanbul. Her father is a well known artists of Turkey who is one of the Village Institution graduates. She was one of the leading peer-coaches of the Microsoft Innovative Teachers Program and a member of YİMEDER.
VILLAGE INSTITUTIONS & LIFELONG LEARNING
Nariye Çavusoglu, Sabriye Hakkıoğlu, TÜRKİYE
Aim of the Project: By taking into consideration the education system in Village Institutions, to examine the reasons of not gaining the habit of lifelong learning which is achieved by The Village Institutions and to offer some recommendations for solution of this problem that most of the students can not gain life learning habit in current education system. In Village Institutions, learning styles and techniques like "observation", "experiment", "research", "investigation" and "discussion" were given importance. The 1943 program, with this quality, prevented students from being focused on memorization and made students think, question and to search for facts. Criticism and self-criticism were done in lessons, meetings in weekdays and Saturday meetings at weekends. Saturday meetings were a great opportunity to assess the learning process, exhibit and reward the products emerged by this learning process.
Practices in Professional and Adult education are closely related with the Lifelong Learning model, educators have applied the Lifelong Learning methods in different ways. Here are some examples: * Preparing the pupils for their adult life (White 1982, p.132), *Making learning an active factor in the student's lives (Kulich, 1982), *Students apply what they have learned in their real life (Peña-Borrero, 1984), * Education as a lifestyle (Lengrand, 1979)Our Suggestions: After we discussed the topic of our project and we analyzed the data from the survey and interviews, we reached to some possible suggestions on the basis of: our interaction with lifelong learners, our personal experience, and the help from our teachers. We organized our suggestions into the following 6 categories: 1. Improvement/imposing of the Habit to Read Books, 2. Acquaintance with more Cultural and Art Activities, 3. Imposing and preserving the right of Equal Rights, 4. Wider Applications of Modern Technology in the Education Process, 5. Organizing Group Projects in the Learning Process, 6. Multiplying the Variety of Approaches towards a Goal.
Nariye Çavuşoğlu and Sabriye Hakkıoğlu were students of the Educational faculty of Bogazici University (My students there). They presented the case they studied on for 2 years within the ICT Seagulls Project and won a medal.
SHARING A REAL TQ MODEL ENLIGHTENMENT MODEL ART TRAINING AT VILLAGE INSTITUTIONS
Prof.Dr. Oğuz MAKAL, TÜRKİYE
Abstract
Art Education within Village Institutions had an important characteristic: since the school used to go on during the whole year, art education was distributed to the whole lives of the boarding students. It was essential to keep a radio, gramophone, and various musical instruments like piano, violin, drum and others. Students were free to learn and play all those instruments in their spare times. All kinds of musical activities were free within and around the school buildings. This was approved and supported by the Ministry in those days. What a pity that the lives of those institutions lasted for only 6-7 years. However, their educational, social, cultural, pedagogical even economical effects have lasted longer and stronger than any other school type. The writers which were trained from those schools have impressed the literature and philosophy in Turkey a lot. We are proud of sharing the content, outcomes and effects of those schools even now in the 21st Century. We hope you feel great interest towards those institutions and would like to learn more about them.
Prof.Dr. Oğuz Makal is the son of a village Institute graduated parents. He is one of the Deans of Istanbul Beykent University.