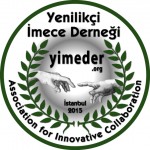 My Dearest Dosts,
I would like to share some good news with you. Perhaps you remember, we had had an NGO (Association for Continuous Improvement/Sü Ge Der) between 2005-2012. Due to some finance and locationproblems, we had to close it. However, as the years passed by, our peace and problem-solving based ICT projects have grown and we felt the crucial need to establish another one. With the support of 18 colleagues and friends, we founded the Association for Innovative Collaboration (Yenilikçi İmece Derneği/YİMEDER)  We prepared our logo.. Tomorrow we are organizing our Foundation Lunch.  Thanks to dearest Leslie Janoe and her dearest husband for heartening me to found it. I also would like to the contributions and reflections of all dosts from WCTQEE and Human DHS. I hope our projects and seminars will be beneficial for our community members, as well as the world citizens.
ASSOCIATION for INNOVATIVE COLLABORATION /YENİLİKÇİ İMECE DERNEĞİ (YİMEDER)
About Us
Association for Innovative Collaboration was founded as a non-profit, non-governmental Organization in Istanbul on January 15, 2015 with the short name; "YİMEDER" in order to help individuals and community members learn, internalize and put into practice the innovative approaches through various seminars and projects.
We aim at leading people and institutions through innovative methodologies mixed with collaboration (=İmece) philosophy coming from our own culture on the way of learning and applying critical thinking and problem solving skills to attain a peaceful life.
Our projects will start from families and after hugging schools will move to business world and to the society. In other words, we will focus on individuals first but then move also to local, national and international gatherings through technology use. In order to bring volunteer qualified persons and organizations to realize a quality community of people who learn 'how to learn', we will organize seminars, panels, conferences, scientific researches and conduct national and international projects. During those activities, equality (language, gender, religion, ethnic, socio-economic status, challenges) and adding value to the community are essential. Member candidates are determined and approved after a detailed inquiry. Commitment and voluntarism are important for us. All members are expected to be active in one or two of the Special Interest Groups (SIG). In order to learn more about our NGO, please visit our web page (www.yimeder.org), and send an e-mail to [email protected].
Mission
We work hard and collaboratively (with İmece spirit) in Turkey and in world countries in order to establish a creative, innovative approach in every field along with continuous improvement philosophy, and to be a leader in doing that.
Vision
We want to be a referential organization, especially in "Innovativeness in Education and İmece Circles".
Planned Activities
In order to find innovative collaborative solutions to various problems areas; seminars, training programs, courses, projects, exhibitions, collaborative activities, conferences and panels will be organized starting from Turkey.  Scientific researches will be conducted based upon data collection in order to modify and activate better activities focusing person and society problems.
Furthermore, 10 different İmece Circles will be formed to conduct projects within those areas:
Collaboration (=İmece) Circle for Learning and teaching problem solving skills,
İmece circle for the disabled people and creating empathy for them,
İmece circle for ICT and Innovative Approaches,
İmece circle for dignity and human rights,
İmece circle for peace and non-violence,
İmece circle for Quality in education,
İmece circle for pre-school children and their creativity,
İmece circle for entrepreneurship in languages, history and environment,
İmece circle for art and music,
İmece circle for the improvement of cultural and intercultural understanding.
Dr.Hayal KÖKSAL
Founding President